Top 10 Tech Trends of 2021 That Will Change Your Business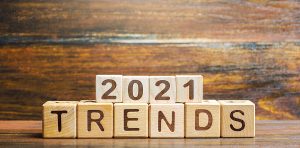 2020 was a whirlwind year, sweeping up the business world and dropping us all somewhere over the rainbow. A global pandemic, economic uncertainty, widespread remote work, and unexpected IT upgrades reshuffled the status quo in unprecedented and unpredictable ways.
Like so many IT consulting firms, we're longing to see what happens in the New Year. With the current state of enterprise IT and projections from industry thought leaders, we're going to make a few predictions of our own about the top tech trends of 2021 – and how your business can prepare for the new normal.
1.) The Reevaluation of Cybersecurity Practices
The pandemic was a major catalyst for the remote work movement (and influenced a number of 2021 technology trends). Standard economists see that 42% of the U.S. labor force is working from home full time, and PwC surveys indicate that 69% of companies are experiencing equal or greater productivity from their teams. The challenge is that moving beyond the on-site security perimeters of office network firewalls has exposed more businesses to the threat of cyberattacks.
Malwarebytes found that 20% of organizations faced a data breach resulting from remote work and the hurried response to maintain continuity and operations. With the amount of data exposed in breaches on the rise, it's important to enhance your enterprise security suite practices.
Organizations across the spectrum will need to refine their identity access management protocols, provisioning permissions with extreme prejudice to avoid expensive breaches. Additionally, remote workers will need more in-depth training on "hygienic" security practices since remote work opens up a larger attack surface for cybercriminals to pursue.
2.) Enhanced Video Conferencing
As a result of COVID-19-prompted work-from-home arrangements, the global video conferencing market is expected to grow from $4.8 billion in 2019 to $9.2 billion in 2027. On the front lines, 62% of organizations use three or more solutions, sampling a wide array of options to find the best fit for their employees and clients. In fact, we anticipate that one of the major tech trends of 2021 is the process of narrowing down video platforms to optimize conferences and reduce costs.
Unlike most business tools, many of your employees have likely gained exposure to a variety of different video chatting platforms as a result of keeping up with friends and family while social distancing or adhering to shelter-in-place orders. As a result, their expectations for the functionality of these video conference platforms will be higher than other business tools.
For a premier experience, screen sharing and call recording will not be enough. Video whiteboarding, live transcription, video clipping, and greater data protection will need to be on the docket to best augment your team and surpass your competition.
3.) Improved Collaboration Technology
Studies have shown that your employees rely on the right atmosphere to achieve their full productivity. In fact, 77% of respondents in a Capital One survey said their performance improved when their workplace provides space for collaboration. Since those opportunities for on-site mingling and brainstorming have vanished, it's essential for businesses to replicate these invigorating spaces in the virtual plane, now and in the future. That's why the evolution of collaboration software is one of our big trend predictions for the year.
Real-time collaborative software is going to become more of a requisite for efficient operations. As mentioned in the last section, we expect to see more organizations adopting video conferencing tools that foster collaboration (i.e. whiteboarding). Yet this doesn't mean just doing all of our interactions via video. Video meeting fatigue is very real. Organizations that find the right balance between video and other communication platforms (Microsoft Teams, Slack, etc.) will be better at maintaining the flow of good ideas and a sense of team morale.
That's just a starting point. In the near future, it might even become standard for artificial intelligence and machine learning features to act as a brainstorming partner alongside your team, running reports while your people do the knowledge work.
4.) Virtual Onboarding
We're hopeful that the distribution of COVID-19 vaccines from multiple pharmaceutical companies will alleviate the need for strict social distancing in the first half of 2021. Even then, we have crossed the virtual precipice and may never return to the same degree of on-site, close-proximity work environments again.
A survey conducted by Slack found that 72% of knowledge workers want a combination of hybrid work (both remote and on-site) after the pandemic. Additionally, remote work during the pandemic has justified for many Millennials living in tech hubs the idea of relocating to more economical locales. Businesses eager to maintain their candidate pipeline will need to embrace talent pools outside their geographic region.
Your IT staffing solutions will need to not only source and screen people outside of your area but will need to be equipped to onboard them virtually. In the hopes of sustaining growth, more organizations will need to create clear virtual onboarding tactics and practices to ensure that candidates are prepared to adjust to the cultural and performance expectations of their new jobs.
5.) Internet of Behavior
There's no shortage of data out there (the world is on track to have 40 times more data than stars in the observable universe) and the ability to connect and exchange data has only compounded over the last few years. We all are gathering near-exhaustive information about consumers and use that data to predict specific behaviors or future actions. The result is a concept called the Internet of Behavior (IoB) and no list of technology predictions for 2021 would be complete without it.
During the coming years, this will manifest in a few different ways. One way is through pinpointed and personalized sales and marketing campaigns for consumers around the globe. With organizations able to compile data using sources ranging from social media and CRMs to wearable devices and other connected technology, they can get an incredible read on how individuals tick and what motivates their behavior. For this level of insight, organizations will need to have the right foundation of business intelligence and analytics tools and build up from there.
Yet there are some ethical grey areas with this technology trend. Currently, government agencies and law enforcement are exploring ways to monitor and predict the future behavior of criminals, terrorists, and bad state actors. Though useful in preventing illegal activity, the application of IoB technology can cross into violations of civil liberties. We expect more debate about the implications of this technology as it gains wider usage and exposure.
6.) Greater Decision Intelligence
Building on the mountains of data available, more organizations will need to rethink their approach to the decision-making process. Most have achieved a level of business intelligence strategy that incorporates diagnostic and predictive analytics into their repertoire, but there are opportunities to reach the next plateau and achieve true prescriptive analytics with more intentional practices. That's why decision intelligence is a key component of our New Year technology predictions.
Decision intelligence is a model that can foster greater outcomes across business operations. Formalizing habits of observing, investigating, modeling, contextualizing, and executing within every data analysis situation creates greater predictability and reliability into the insight your organization gains. With more commonplace AI and ML tools integrated within these practices, decision makers in 2021 and beyond will be able to extract deeper, more actionable intelligence from the data and systems at their disposal.
7.) Intelligent Automation
2020 emphasized the importance of cost reduction across organizations. Some CFOs likely trimmed 4% to 11% of SG&A functions during the pandemic, and the beginning of 2021 will likely be marked by financial caution and wariness. In recent years, businesses have sought out robotic process automation (RPA) as a way to manage costs and budgets by automating basic, routine, or repetitive tasks. Now, that concept has integrated with the sophistication of machine learning to pioneer intelligent automation, a key focal point of our tech trends of 2021.
Where the goal of RPA is to automate manual work, intelligent automation is expanding to target some low-value knowledge work. The goal is to generate efficiency for your workers and enhance their productivity rather than to make them obsolete. Additionally, this technology trend will be more appealing by pairing it with scriptless automation. When employees are shown that their own performance can be enhanced by enabling them to create automated tests without prior scripting knowledge, it will be clearer that your goal is to empower them, not replace them.
8.) Data Poisoning
Your insight, reporting, and automation are only as good as the quality of the data itself. Though more organizations are recognizing the importance of data quality (48% of respondents in an O'Reilly survey are using AI and ML tools to analyze for that explicit purpose), there's a growing concern that outside forces – be they competitors, cybercriminals, or any malicious person – are conspiring to poison your data itself.
Algorithms without the right guidance can already come to the wrong conclusions. Deep learning models tasked with identifying melanoma from dermatology images made false diagnoses in the trial run because the algorithms fixated on an arbitrary feature (ruler markings on the original image) as the leading sign of skin cancer. Researchers caught the issue and retrained the algorithm, but similar issues can occur without proper scrutiny and cause definitive harm. Now, imagine the harm that can be done when problematic, poor, or misleading data is filtered into data sets.
Most cybersecurity practices prioritize the systems rather than the data itself, allowing careful cybercriminals to corrupt data before or after it is added to data warehouses. Without cybersecurity practices adjusting to address this issue, undermined analytics can hurt business intelligence or reinforce narratives that bad actors want to support. Going forward, businesses will need to monitor their data and take precautionary action to prevent any alterations from outside influencers.
9.) Low-Code DevOps
More businesses are recognizing the greater potential of DevOps best practices. With the intention to accelerate development practices and streamline the delivery of high-quality applications, it only makes sense that DevOps leaders are experimenting with frameworks that reduce coding efforts. The result has been to test out low-code or no-code DevOps strategies, which has expanded in use enough to be one of our tech trends of 2021.
A starting point will be to seek out development platforms with more sophisticated GUIs and drag-and-drop functionality. According to the 2020 State of DevOps Report, 63% respondents said their organization uses at least one self-service internal platform, but we expect DevOps teams to expand their overall employee involvement to integrate this more intuitive approach.
Combining easy-to-use features with more expert (and equally effective) practices like continuous integration testing activities and GitOps, organizations can produce reliable and iterative applications. Plus, those organizations that reach out to DevOps solution providers can scale up these advantages at a much faster rate.
10.) Modular Businesses
The popularization of digital transformation solutions increased the scalability of businesses worldwide. After IT innovators made it beyond early cloud migration challenges, they saw the value of rethinking fixed systems. Rather than depending on platforms, systems, or applications that are indelibly bound, more organizations are pondering over whether to treat different features and applications as interchangeable building blocks.
This isn't an entirely new concept. APIs have existed for decades to create interoperability across a complex array of different applications. The successors of that idea have been microservices and containerization, which promise to make applications more adaptable and less prone to major outages. Though about 30% of organizations have adopted containerization today, Gartner predicts that 75% of global organizations will be running containerized applications by 2022.
Preparing for the top tech trends of 2021 is only the start. Reach out to the Evolutyz team to discuss your challenges and how we harness the latest innovations help achieve your goals.

Related Articles
3 Ways a Business Intelligence Strategy Enhances the ROI of Your Data
 3 DevOps best practices that are essential for businesses to succeed
 Running into Cloud Migration Challenges? Here's How to Overcome Them